ALL ITEMS LISTED HERE ARE AVAILABLE FOR PURCHASE AND IMMEDIATE SHIPMENT. ALL PRICING WILL BE CASH PRICES AND SHIPPING WILL BE QUOTED FOR CONUS. 
PLEASE E-MAIL FOR PURCHASE OR INQUIRIES:
IF PAYING WITH PAYPAL USE
stevejcorcoran@wmconnect.com


AMBIDEXTROUS THUMBHOLE LAMINATE MARAUDER PISTOL CARBINE STOCK. CUT FROM ROYALE JACARANDA (GRAY, BROWN, WINE) AND FINISHED OUT WITH CURVED PAD WITH MAPLE SPACER AND DECORATIVE GRIP CAP. FITS ALL BENJAMIN MARAUDER PISTOLS AND 1720T GUNS. ILLUSTRATED MOUNTING INSTURCTIONS INCLUDED.

$520.00 SHIPPED IN CONUS




RIGHT HAND WALNUT THUMBHOLE HW97 FIELD TARGET STOCK. THIS IS OFF MY PERSONAL GUN AND DID A REFINISH ON IT SO IT IS LIKE NEW. COMES WITH ADJUSTABLE COMB AND 3 WAY ADJUSTABLE PAD-LOP, HEIGHT AND ROTATIONALLY. FRONT BRASS SCREW CUPS INSTALLED. NO KNEE RISER BUT WOULD BE WILLING TO ADD HARDWARE TO THE FOREARM TO MOUNT YOUR MECHANICAL OR SOLID RISER FOR AN ADDED FEE.

$875.00 SHIPPED IN CONUS

ADJUSTMENT TOOL AND FRONT MOUNT SCREWS INCLUDED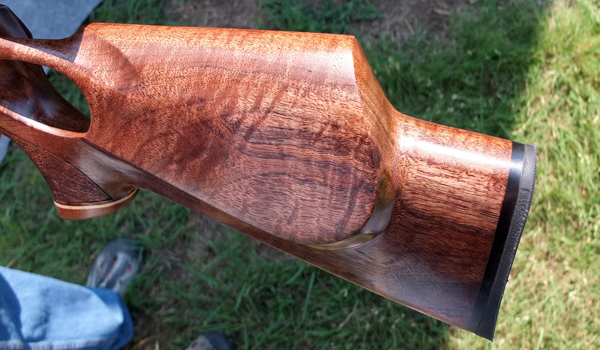 HW95/R9 RIGHT HAND WALNUT THUMBHOLE STOCK. CUT FROM NICELY FIGURED WALNUT WITH CURL. DECORATIVE GRIP CAP AND GRIP STIPPLING. COMS WITH FRONT SCREW HARDWARE. $575.00 SHIPPED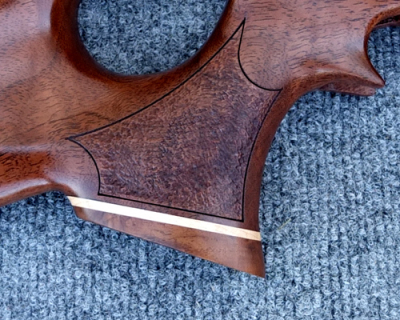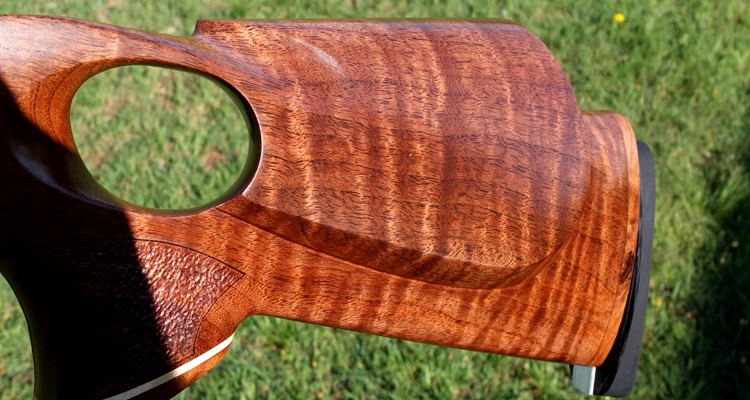 HW95/R9 WALNUT RIGHT HAND THUMBHOLE STOCK. CUT FROM VERY NICELY FIGURED WALNUT WITH CURL THROUGHOUT. DECORATIVE GRIP AND FOREARM CAPS WITH MAPLE SPACERS. DECORATIVE GRIP AND FOREARM STIPPLING, BRASS SCREW CUPS AND ADJUSTABLE RECOIL PAD. HAND CUT CHEEK SHADOW LINE TO HIGHLIGHT MORE DETAIL. FOREARM MOUNTING HARDWARE

AND PAD ADJUSTMENT TOOL INCLUDED. THIS IS AN EXCEPTIONAL STOCK.



FWB124/127 RIGHT HAND WALNUT SPORTER WITH DECORATIVE DIAMOND INLAY GRIP CAP. DECORATIVE GRIP AND FOREARM STIPPLING WITH LASER CUT BORDERS. STOCK COMES WITH DECORATIVE CURVED RECOIL PAD AND HW STYLE TRIGGER GUARD. VERY SLEEK DESIGN MAKING THE GUN NICE TO HANDLE. ANCHOR SCREW SUPPLIED AS FACTORY SCREW IS TOO SHORT.